In this part, we talk about the super amazing addition of Sports and Tacos. If you're a fan of the History Channel's hit show Pawn Stars, then you're probably familiar with Dan Wulkan, one of the show's recurring experts. 
But did you know that Dan has a passion for sports and tacos? Recently, he sat down with ex-NASCAR driver Flash Bugatti to talk about their shared love of both. So, in this blog, we try to explain what happened in that exciting discussion, let's take a look:
A Dynamic Discussion With Dan Wulkan and Flash Bugatti
When you gather a group of sports enthusiasts together, you're sure to have an interesting and engaging conversation. That's exactly what happened when Dan Wulkan from Pawn Stars on Netflix and History Channel, ex-NASCAR driver Flash Bugatti, and several other guests sat down to discuss their shared love of sports and tacos.
The guests included Spencer Cadigan, a former Division 1 basketball player who is now an entrepreneur and motivational speaker, Alex Ginzel, a sports agent and founder of Athlete Management Services, James Zuley, father of media personality Eric Zuley and a former college athlete, Matt J. Doyle, a sports broadcaster and commentator, Eric Vejar, a former professional soccer player and current coach, Eugene Mandelcorn, a sports journalist and broadcaster, and RH Riyad, a social media influencer and sports enthusiast.
Also, that's even more impressive! It's not easy to have multiple people sharing one screen and still be able to engage in a conversation effectively, but it sounds like Bama and TMP were able to do just that.
Their ability to navigate the challenges of joining a conversation from one screen is a testament to their adaptability and willingness to embrace new experiences. It's clear that they are true sports and taco enthusiasts, and their contributions to the conversation were surely appreciated by the other guests.
In a world where technology plays an increasingly important role in our daily lives, it's always great to see people using it to connect with others and share their passions. Bama and TMP's presence in the conversation is a reminder that no matter where we are or how we connect, we can always come together to talk about the things we love.
Sports: A lifelong passion
Dan Wulkan has been a sports fan for as long as he can remember. He grew up in a family of sports enthusiasts and has always had a particular love for football and baseball. As he got older, he became interested in other sports as well, including basketball and hockey.
Flash Bugatti, on the other hand, has always been drawn to racing. He got his start in go-karting at a young age and worked his way up to become a successful NASCAR driver. But despite his focus on racing, he also has a love for other sports, particularly football, and basketball.
Despite their diverse backgrounds and interests, the guests all shared a passion for sports. They discussed everything from their favorite teams and athletes to the impact of sports on society and the importance of staying active and healthy.
Dan Wulkan shared his love of baseball and the Chicago Cubs, while Flash Bugatti talked about his experience as an ex-NASCAR driver and the thrill of high-speed racing. Spencer Cadigan shared insights into his career as a basketball player and the lessons he learned about perseverance and teamwork.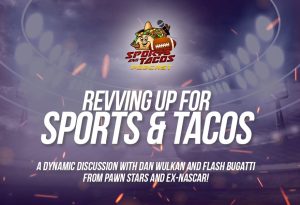 Tacos: A tasty obsession
Of course, no conversation about sports is complete without discussing food, and tacos were a favorite among the guests. James Zuley shared his love of street tacos, while Matt J. Doyle recommended trying tacos as a pastor. Eric Vejar talked about the importance of nutrition for athletes, and how tacos can be a healthy and tasty option.
While their sports preferences may differ, Dan and Flash are both in agreement when it comes to their love of tacos. Dan Wulkan has long been a fan of Mexican cuisine and particularly enjoys tacos for their versatility and portability. Flash, who hails from Texas, grew up on Tex-Mex cuisine and has a particular love for breakfast tacos.
The two even joked about the idea of starting a food truck business that would combine their love of sports and tacos, perhaps parking outside stadiums and serving up tasty treats to hungry fans.
Looking to the future
As the conversation wrapped up, Dan Wulkan and Flash Bugatti talked about their hopes for the future. Alex Ginzel discussed his work as a sports agent and the exciting opportunities he sees for young athletes. Eugene Mandelcorn talked about the role of technology in sports broadcasting and the potential for innovations in the field.
Dan Wulkan is excited to continue working on Pawn Star and is also looking forward to attending more sports events once they resume post-pandemic.
Flash Bugatti, who has recently transitioned into a career as a racing commentator, is looking forward to continuing to share his passion for motorsports with fans around the world. And who knows, maybe one day we'll see them teaming up to serve up delicious tacos to sports fans everywhere.
And, of course, the group couldn't resist discussing the possibility of starting a sports-themed taco truck or restaurant, a business idea that brought laughter and excitement to everyone involved.
We hope you enjoyed this conversation with Dan Wulkan, Flash Bugatti, and other sports enthusiasts about their shared love of sports and tacos. Do you have a favorite sports team or type of taco? Let us know in the comments!