Welcome to the exciting world of Radio Boomers Live, where hosts James Zuley, Eric Zuley, and Carmelita Pittman bring you the latest updates and trends in the ever-evolving landscape of technology and entertainment.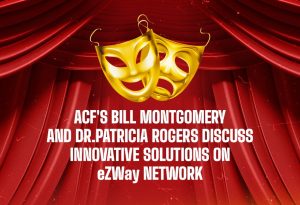 Today, we have a special episode on the eZWay Network, featuring esteemed guests ACF's Bill Montgomery and Dr. Patricia Rogers, who will share their expertise and insights on innovative solutions. Stay tuned for an enriching and engaging discussion!
So, Join us in welcoming Dr. Patricia Rogers, the dynamic CEO of Unity In Service, and Bill Montgomery, the founder of Hidden Pioneersto today's episode of Radio Boomers Live on the eZWay Network.
Bill Montgomery and Dr. Patricia Rogers Discuss Innovative Solutions
Bill Montgomery's work with Hidden Pioneers is truly remarkable, as he is providing a valuable opportunity for underprivileged youth to gain practical skills and confidence through hands-on experience with automobile repair and maintenance. 
This approach can be a game-changer in breaking the cycle of poverty and empowering the next generation to achieve their full potential. 
Dr. Patricia Rogers, as a seasoned Visibility Strategist, can help elevate the impact of this innovative solution by crafting a tailored visibility strategy that amplifies Hidden Pioneers' message and attracts a broader audience of supporters and donors. 
Through her expertise in social media, content marketing, and stakeholder outreach, Dr. Rogers can help Hidden Pioneers expand their reach and make a greater impact in the lives of the youth they serve. Bill Montgomery and Dr. Rogers are driving change and making a positive difference in the world.
Dr. Patricia Rogers
Dr. Rogers has been a game-changer in the entrepreneurial space, creating a platform that connects like-minded individuals and empowers them to create wealth and provide innovative solutions through collaboration and resource sharing. 
Her visionary approach has helped many entrepreneurs and business owners overcome challenges and achieve their goals, all while promoting the values of community, diversity, and inclusivity. We are excited to learn more about her inspiring journey and the valuable insights she can offer to our listeners on how to succeed as entrepreneurs in today's competitive landscape.
On that show, she tried to explain clearly all the innovative solutions for visibility strategy are how connected with innovative thinking. 
Bill Montgomery
Bill Montgomery, the founder of Hidden Pioneers, has been making a remarkable impact on the lives of underprivileged youth through his unique approach to teaching automobile repair and maintenance. By providing hands-on experience to kids who may not have access to such opportunities. 
He is helping them develop practical skills and a sense of confidence that can be transformative in breaking the cycle of poverty. Bill's work with Hidden Pioneers has garnered attention and recognition for its innovative and effective approach to youth education and empowerment. 
Through his dedication and passion for helping the next generation, Bill is inspiring change and making a positive impact in the world. In that show, he was trying to explain, how we can influence young generations to learn innovative services and skills.
What are Innovative Solutions?
Innovative solutions are new, creative, and effective approaches to solving complex problems. These solutions often challenge traditional methods or established practices and offer novel ways to address issues in various fields, such as healthcare, education, technology, business, and social welfare. 
Innovative solutions can take many forms, such as a new product, service, process, or strategy, and are often driven by cutting-edge research, emerging technologies, or a desire to improve outcomes and outcomes for individuals and society. 
In today's fast-paced and ever-changing world, innovative solutions are essential for driving progress and addressing the pressing challenges facing our communities and planet.
Carmelita's Corner brings you an exciting update!
On the entertainment front! Today, we highlight the talented producers of the upcoming American comedy film. Pete, Spencer, and Alex are the driving force behind this project, bringing their unique perspectives and expertise to create a hilarious and entertaining movie that is sure to captivate audiences. 
As seasoned producers in the industry, they have a proven track record of delivering high-quality content that resonates with viewers. We can't wait to see what they have in store with this new venture and wish them all the best in their endeavors.
In conclusion, the conversation between ACF's Bill Montgomery and Dr. Patricia Rogers on the eZWay Network shed light on the power of innovative solutions in driving change and making a positive impact in the world. 
Bill Montgomery's work with Hidden Pioneers is a testament to the effectiveness of providing practical skills and hands-on experience to underprivileged youth, enabling them to gain confidence and self-reliance that can help them break the cycle of poverty. 
Dr. Patricia Rogers, as a Visibility Strategist, brings a wealth of expertise in crafting comprehensive strategies that help organizations like Hidden Pioneers gain visibility and attract support, allowing them to scale their operations and reach more individuals in need.
Their shared vision of empowerment through collaboration and resource sharing is an inspiring example of how entrepreneurs can leverage their skills and networks to create solutions that drive progress and benefit society as a whole. By embracing innovative approaches and challenging traditional methods, they are paving the way for a better future.
We can all learn from the insights shared by Bill and Patricia and strive to incorporate innovative solutions in our own lives and communities. By working together and harnessing our collective potential, we can create positive change and make a lasting impact on the world.