About me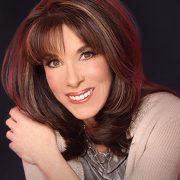 Kate Linder
Award winning actress, speaker, charity advocate
Kate Linder was cast as Esther Valentine on The Young and the Restless over 37 years ago in April 1982. She remains a key member of the top-rated daytime drama's cast. On April 10, 2008, Linder received a star on the Hollywood Walk of Fame. Linder was elected to two terms as the Television Academy's Governor of Daytime Programming Peer Group and was elected to multiple terms as a SAG-AFTRA board member.
Linder's feature film credits include Hysteria, Erased, Miss Meadows, Garry Marshall's Mother's Day, Voice from the Stone, The Charnel House, and she's also one of the leads in Charlie Matthau's upcoming Book of Leah and Echo Boomers.
She enjoys the best of both worlds — on the air and in the air. "Acting is my life and my creative satisfaction," says Linder. She never quit her pre-Y&R weekend job as a United Airlines flight attendant because it keeps her grounded.
Linder was born on November 2nd in Pasadena and raised in Arcadia by her CPA father and homemaker mother, with her younger brother, Randy. She entered dance classes at age 3 and by the time she graduated high school, she'd appeared in major singing and dancing roles in Promises, Promises, Three Penny Opera, L'il Abner, Jesus Christ Superstar, and many others.
Reviews
Sorry, there are no reviews.
Video
Kate Linder on The Morning Show