About me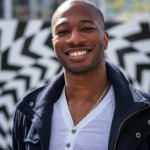 My name is Hafeez and I am a Level up Certified Intuitive Brand Strategist on a mission to ignite the souls of social entrepreneurs and attract their dream audience.
With a decade of marketing expertise and a burning passion for personal development, I am dedicated to empowering leaders in the health and wellness industry to not just succeed but to truly make a difference.
Together, let's create a brand that will not only spark a fire within you but also propel your impact and drive your mission forward. As a fellow dreamer and doer, I understand the importance of sustainable growth and the need to unleash your talents to serve your community.
Are you ready to take your brand to the next level and ignite a movement that will leave a lasting impact?
Reach out.
Friends
Services
Brand Strategy
IGNITE YOUR SOCIAL IMPACT WITH A POWERFUL BRAND! Let's work together to turn your passion and purpose into a brand that stands out, connects with your audience, and propels you towards your goals. Unleash the full potential of your social enterprise with a comprehensive brand strategy that covers these 6 essential steps: 1. Discover your purpose 2. Craft a captivating brand personality 3. Identify your ideal audience 4. Establish a unique brand position 5. Plan your brand rollout 6. Continuously evolve and improve