eZWay Magazine is thrilled to announce its upcoming Summer Issue release event, featuring an incredible lineup of prominent personalities from various industries. 
This exclusive gathering will not only showcase the magazine's latest edition but also serve as a platform to promote charitable endeavors and celebrate the impact of influential individuals in the community.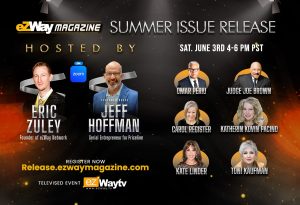 Speakers Of the Event
Jeff Hoffman –  Co-founder of Priceline, CEO of Ubid.com, and Chairman of the Global Entrepreneurs Network. Jeff is known for his philanthropic efforts and will be sharing his insights and experiences during the event.
Omar Periu – Co-founder of LA Fitness, a highly successful entrepreneur, and the author of 28 best-selling books. Omar will deliver a captivating keynote, offering valuable lessons from his extensive business background.
Judge Joe Brown – A TV judge and candidate for Mayor of Memphis, Judge Joe Brown will provide thought-provoking insights into his diverse career and the importance of civic engagement.
Prominent Attendees of the Event
In addition to the keynote speakers, the event will feature an impressive lineup of accomplished individuals, including-
Kate Linder – An actress renowned for her role in the popular TV show "Young and Restless" and a Hollywood Walk of Fame star holder.
Jake Jacobson – Former Vice President of Paramount Pictures' TV division, brought his extensive knowledge of the entertainment industry to the event.
Katherin Kovin Pacino – Stepmother of Al Pacino and a distinguished actress and celebrity jewelry designer for the K Kovin Collection.
Johnny Venokur – A versatile TV personality, actor, and producer who has appeared on various shows such as MAX, Paramount Plus, VH1, and Jimmy Kimmel Live.
Carol Register – A prominent business tycoon in the heart centre industry and Nerucoach, is affiliated with eZWay and a Platinum member.
Elec Simon – An influential percussionist, celebrity hype man, and hostainer who will deliver a captivating performance during the event. Before becoming a sought-after emcee and motivational entertainer, Elec Simon made waves in the international performing arts scene.
He gained global recognition through his performances with the renowned production "Stomp," captivating audiences off-Broadway and around the world. 
Elec's talent for percussion and his ability to transform everyday objects into musical instruments became his signature style. 
Event Details:
Date: Saturday, June 3rd Time: 4-6 PM PST
Celebrity Expert Panel and Q&A
Gain valuable insights and inspiration from our star-studded panel of experts in the entertainment industry. These renowned celebrities will share their personal experiences and success stories, providing you with a unique perspective on achieving your goals. Take this opportunity to ask them questions and learn from their wisdom firsthand.
Virtual Giftbag Giveaway
As a participant in the eZWay Magazine Summer Issue Release Event, you'll have the chance to win exciting prizes through our virtual gift bag giveaway. These exclusive giveaways will feature a curated selection of products, services, and experiences that will enhance your lifestyle and make this event even more memorable.
Pitch Party Session
Are you an aspiring entrepreneur or have a brilliant idea you'd like to share? Our pitch party session offers you the perfect platform to showcase your ideas to a receptive audience. Connect with like-minded individuals, potential investors, and industry professionals who can help turn your dreams into reality. Don't miss this opportunity to network and gain valuable connections.
Gaining Access with Johnny Venkour
Join the charismatic and knowledgeable Johnny Venokur, as he takes you behind the scenes of the eZWay Magazine Summer Issue Release Event. Johnny will provide exclusive access and insider tips, giving you a glimpse into the inner workings of this spectacular event. Immerse yourself in the event's energy and get the inside scoop on the latest trends and happenings.
Meet the Team
Interact with the talented individuals behind eZWay Magazine and gain insights into their vision and mission. Learn more about the dedicated team that works tirelessly to bring you the latest news, stories, and features. 
Discover their passion for entertainment and their commitment to delivering high-quality content. This is your chance to connect with the minds driving eZWay Magazine's success.
Don't miss out on the eZWay Magazine Summer Issue Release Event, where you can engage with celebrities, learn from experts, win exciting prizes, network with industry professionals, and get an exclusive behind-the-scenes experience. Get ready for a memorable event that promises to exceed your expectations and leave you inspired.
Final words
Don't miss out on this exceptional opportunity to be a part of the eZWay Magazine Summer Issue release event. 
Join us on June 3rd from 4-6 PM PST for an unforgettable experience filled with inspiring keynotes, a celebrity expert panel, engaging sessions, and the chance to connect with renowned personalities from various industries.
Register now for free at http://release.ezwaymagazine.com  and be sure to invite five subscribers to attend for an opportunity to have your photo taken on stage with one of our featured celebrity attendees. 
We look forward to welcoming you to the #ezwayfamily and experiencing the magic of the eZWay network firsthand.
Remember to use the hashtags #ezwayevents and #ezwaynetwork to share your excitement about the event on social media!