eZWay Pitch Party is an online event platform that helps entrepreneurs and business owners showcase their products and services to a large audience of potential investors, customers, and partners. Through this platform, businesses can pitch their ideas dynamically and engagingly, and receive valuable feedback and support from a community of like-minded individuals.
The platform is designed to help businesses digitize their operations by leveraging the power of technology and the internet. It provides a range of tools and resources to help businesses create professional-quality pitch videos, build engaging presentations, and connect with potential investors and partners.
eZWay Pitch Party is an innovative and effective way to raise capital, gain exposure, and accelerate the growth of your business. Whether you are just starting or looking to take your business to the next level, eZWay Pitch Party can help you achieve your goals and reach your full potential in the digital age.
What is Pitch Party?
A pitch party is an event where entrepreneurs and startups can showcase their business ideas or products to potential investors, partners, and customers. 
Pitch parties usually involve a series of short presentations or pitches, where each participant has a limited amount of time to present their business and convince the audience of its potential.
eZWay Pitch Party is a specific type of pitch party that is organized by eZWay Network, a digital media and marketing company that specializes in helping businesses leverage technology to grow and succeed. 
The eZWay Pitch Party is a virtual event that provides entrepreneurs and business owners with a platform to pitch their ideas to a global audience, connect with investors and partners, and receive feedback and support from the eZWay community.
eZWay Pitch Party is designed to help businesses digitize their operations and take advantage of the power of the internet to grow and succeed. It is a unique opportunity for entrepreneurs to showcase their ideas and products, gain exposure, and accelerate the growth of their businesses. 
By participating in eZWay Pitch Party, businesses can benefit from the expertise and support of the eZWay Network, and gain access to a vast network of potential investors, customers, and partners.
March 16 Pitch Party: On March 16, eZWay Network founder Eric Zuley and Standout Stars CEO Toni Kaufman hosted yet another amazing pitch party. The event was graced by numerous members of the eZWay family.
Including CFO of River Rock Films Van Dichoso, producer of the American Comedy Film, podcast host of Sports and Tacos and actor Spencer Catigan, and founder of Author Assist, host of Behind The Pen Karina Kantas.
Dr. Fitness USA eZWay TV Show hosts Stephen Hercy and his wife Batista Gremaud, Smash Thr0ugh Mentor Debora J. Hollick, Kimber Trapani, Business scaling WIN expert Fred Smith, expert husband and wife couple coach, host of their show on Zondra TV Eric Hylick, music coach Wendy Weber, TV. 
And podcast host Kimberly Trapani, Morry Zelcovitch, Angelina Sun, Eugene Mandelcorn, Christine Hiebel, and executives that power eZWayTV Devin and Steve with Gideo were also in attendance.
Entrepreneur and stage producer Shiraz Nathaniel Etinoffe, best-selling author and coach Krystle Richardson, and Standout Stars clients Patti Stueland and Marla Press were also present.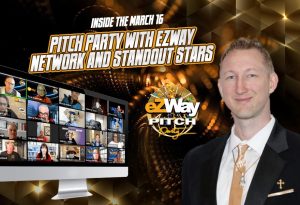 March 16 Event: During the event, the board members of Better Vision For Children, James Zuley and Grant Doelp, an eZWay Network sponsor and beneficiary, also graced the eZWay Pitch Party Stage to talk about how they are changing children's lives.
Attendees were eagerly waiting for their chance to spin the eZWay Wheel of Opportunity, which was spun by Eric's father James Zuley. The winners for March 16 were Debora Hollick, who won stage time, a tie between Kimberly Trapani and Eugene Mandelcorn for two free months of upgraded membership, and Shiraz, who won $75.00 in eZWay cash to spend on their services.
Overall, the March 16 pitch party was another great success, bringing together some of the most influential and dynamic members
Why  Pitch Party is a great way to connect people?
A pitch party is a networking event where entrepreneurs, investors, and other professionals come together to share ideas, network, and seek funding. Here are some reasons why pitch parties can be a great way to connect people:
Common Interest: Everyone who attends a pitch party has a common interest – they are all interested in startups and entrepreneurship. This shared interest can help to break down barriers and create connections between people who might not otherwise have met.
Opportunity to Pitch: For entrepreneurs, pitch parties provide an opportunity to pitch their ideas to potential investors, which can lead to funding and other resources to help grow their businesses. For investors, pitch parties provide an opportunity to discover new startups and potentially invest in them.
Networking: Pitch parties are a great way to network with other professionals in the startup community. Attendees can meet potential business partners, mentors, and advisors, as well as other entrepreneurs and investors.
Idea Exchange: Pitch parties can be a great place to exchange ideas and get feedback on your business idea or startup. By connecting with other professionals and entrepreneurs, you can gain valuable insights and perspectives that can help you refine your business strategy.
Overall, pitch parties can be a great way to connect people because they provide a shared interest, and opportunities to pitch, network, and exchange ideas.