Welcome to eZWay TAP Pitch Party, the exciting spin-off of the popular ezWay Pitch Party created by Eric Zuley and hosted by Eric Zuley and Toni Kaufman. This platform provides a unique opportunity for entrepreneurs and innovators to showcase their ideas and products to a global audience, gain valuable exposure, and network with like-minded professionals.
With its engaging format and high-profile guests, eZWay TAP Pitch Party is a must-attend event for anyone looking to accelerate their business growth and take it to the next level. Join us for an unforgettable experience that could change the trajectory of your business forever! So, let's take a look:
Tap Pitch Party is Incredible for Your Aim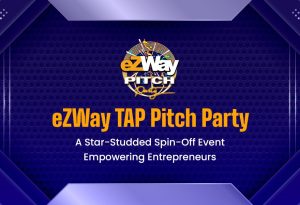 Batista Gremaud talked to Dr. Fitness who is a founder of Dr. Fitness USA. Batista Gremaud wanted to know from him what aims to inspire a society of stronger people. What is looking for experts who have overcome some type of obstacle, and if it involves a healthy lifestyle in your solution then we want to talk about the need to launch to the feminine body.
Dr. Fitness provides services like Judo and mixed martial arts also. That was also amazing to know. He also tries to explain the need for exercise and fit the body's benefit.
Exploring the Game-Changing Ideas from TAP Pitch Party 04-18
In this party they all talked about IMDb being helpful to accelerate eZWay members to the next level of an online presence. And then Flash Bugatti joined the pitch party and welcomed Matt J Doyle for his good spin-off.
Eric Zuley was also said about the eZWay Wall of Fame and its members. He tried his best to explain the importance of business growth to the next level by eZWay Wall of Fame.
He also said that Matt is at the top of the chain on his list along with Eric and everybody with the eZWay family. Also admired Matt because of seeing him at the spin-off.
And then there was joined Lorna Sherland. She is eZWay's gold member. At that pitch party, Eric Zuley welcomed her cordially and introduced herself. She is a business strategist and a transformational coach.
Lorna Sherland provides mankind with helpful service to female freedom of money and life legacy. She is also a real estate broker. That sounds very kind and strong support to females also. After a short speech, she was leave the Zoom pitch party by giving thanks to all.
eZWay Pitch Party's Guests on 18-04-2023
On that pitch party, there were present  Eric Zuley's father, James Zuley, Batista Gremaud, Dr. Patricia Rogers, Flash Bugatti, Dr. Fitness, Lorna Sherland, Wendy Huffman, Medge ET Jaspan, Marla Press, Maurice Dwayne Smith, Sylvia Myers, Bob Donnell, Big Bruce, Katherin Kovin Pacino, Grant Doelp, Deborah Paulsen, Flo Mina, Johnny Venokur, Dr. Dante Sears and Master Teresa.
That TAP pitch party was amazing, it's clear to all of us right now because of our special guests.
Context of the Pitch Party
The eZWay TAP Pitch Party on 18-04-2023 was really helpful for new business owners or anybody who wants their podcast to reach a huge audience. There are many influencers and business owners who shared their experience with the eZWay Wall of Fame's importance and how they pitched their party with a good experience with Eric.
Overall, that was an informative pitch party at all. Because Eric was put in a link for how to do an account on the eZWay Wall of Fame. And also he suggested people if they have an account already, then they need to must try to follow more and talk to reach more people for growing better public relationships.
eZWay is a way of connecting Higher Profile People
eZWay helps people upgrade their public value and wider online reach also. IMDb credit is one of their certified show. Celebrity people are included in their popularity on IMDb. If you need to know more information, they want to kind of see who's in there.
In that pitch party, they shared the way for those who have an account at eZWay profile and also for others who have no profile. Eric Zuley also clearly said that eZWay connects and networks with them with high-profile people.
And also that was amazing at that party, Lorna Sherland is new to the eZWay family and she has already connected with people of eZWay and posted her profile something related to eZWay and Eric Zuley.
If you want your pitch party then let's comment down below for your one with a great experience with Eric Zuley. And when you follow eZWay on Facebook, Linkedin, Twitter, and Youtube wherever you're, you can get the value for them that they promised.
Tap Interview Benefit
When you're going to attend TAP interviews you will involve with huge facilities from the eZWay family. And if you have a profile on eZWay wall of fame then that platform will build to design all of that stuff for you. You can get the best facility from IMDb.
Verdict
In conclusion, eZWay TAP Pitch Party is an excellent platform for entrepreneurs to showcase their innovative ideas, gain exposure, and connect with high-profile professionals. With its engaging format and star-studded guests, this spin-off event of the ezWay Pitch Party is truly a game-changer for anyone looking to accelerate their business growth. 
The event has been highly successful in empowering entrepreneurs, and eZWay's focus on networking and connecting with high-profile individuals has made it a valuable resource for business owners. 
By attending TAP interviews and creating a profile on the eZWay Wall of Fame, entrepreneurs can take advantage of the many facilities and resources offered by the eZWay family. If you're looking to take your business to the next level, be sure to attend eZWay TAP Pitch Party and explore the many opportunities it has to offer.