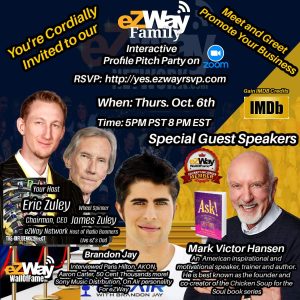 Eric Zuley 's supercharged marketing vehicle,  whose well known electrifying impact on its members' businesses, called, " EZWay Interactive  Pitch Party", which preceded him, was full blown and  popping; interlocking the needy with much needed solutions,  mentorship,  and direction, OCTOBER 6, 2022—- featuring Mark Victor Hansen and Brandon Jay.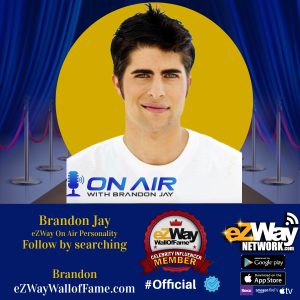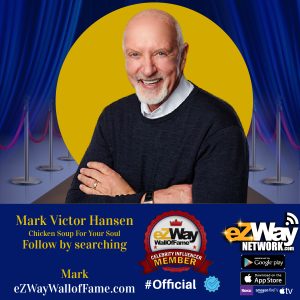 Within a nucleus of expertise spearheaded by author of " Chicked Soup for your Soul", Mark Victor Hansen and music guru and on air personality, Brandon Jay, a hungry legion of over a hundred Zuley aficionados, which he calls his " family", permeated through the digital wormhole and shared their expertise,  introduced themselves and mingled together, gaining insight,  and garnering much needed guidance as needed—– pitching their businesses and purposes like madsville.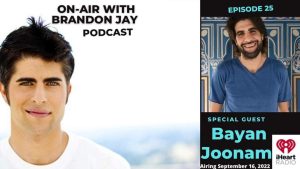 Interestingly Enough, entertainment experts  like Peter Guber, CEO of Mandalay Entertainment, Ken Rutkowski, host of " Business Rockstars" Radio Show, and Grammy nominated composer,  recording artist,  Freddie Ravel, expounded on Hansen's validity– over 500 million copies sold—-explaining his challenging  trajectory,  perseverance and his ability to teach the magic of "reinvention of self", respectively speaking.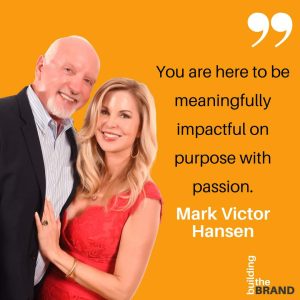 .
The air sparked with hope and electricity as Hansen invoked the pitch party attendee's "third eye", seeking to infuse a passionate child- like  vibe- of resilience to succeed with a purpose. He exuded a never embracing no's and setbacks mentality; The crowd absolutely absorbed his flow.
The following attendees dived into the limelight, undaunted by being in the moment, fearless, upfront, illuminated and being seen and heard and spoke to Hansen:
Jane Huang, , Ronnie Tsunami, K.J.Bradley, Linda Roy, Jason McNamara, Anita Carter, Mike Chaudhry, Linda Cain, Ms.Benita, Master Teresa, James Zuley,Ruth Wishengrad,  John Michael Ferrari,  Pepper Jay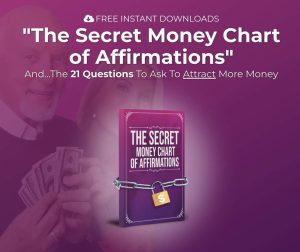 Infact, newcomer James Tiberius, stepped right up and introduced himself and his business. Linda Roy exclaimed,  " You talk so free and open. You're like a big drink of water on a hot day."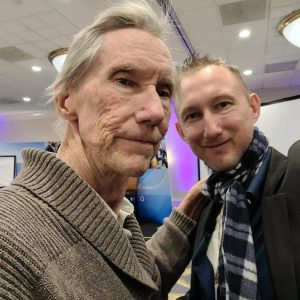 Hansen ended by saying,  ' I wish you all unlimited faith. If you want to have a bigger stronger and better life,  listen to the EZWAY'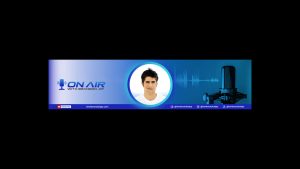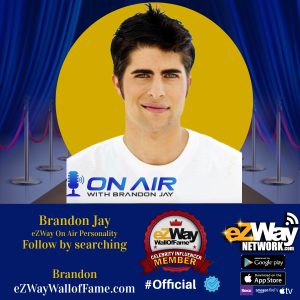 Brandon advised, regarding Zuley's question of how to get access to the caliber of artists that he meets, and he sId, " Everyone just be yourself and execute AUTHENTICITY in all that you do and that will get you access to the the people that you want". He expounded that this type of behavior gets you recognized and  "your talent makes room for you and don't give up.What God has is meant for you specifically."