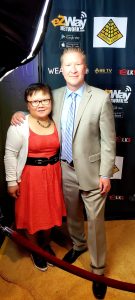 Greetings from Matt J. Doyle, a member of the eZWay Family & user of a successful eZWay Wall of Fame Profile!
I recently attended, eZWay Eric Zuley & Dante Sears, plus Johnny Venokur Birthday at The Hills Hotel 25205 La Paz Rd, Laguna Hills, CA 92653 & on Zoom on Saturday March 19th starting with Red Carpet at 6:00 pm (PST), With my Wife Patricia Doyle!
I was doing TAP Interviews, where you can obtain valuable exposure & IMDb Credits!
Other Media, & Celebs were be there as well. Including Getty & Wire Images, Film Producers, Directors, Actors, Artists, Writers, Celebrities & other Influential People!
It was a great chance to network & walk the Red Carpet while being Professionally photographed & Interviewed, again while picking up valuable exposure & IMDb Credits.
Eric Zuley of team eZWay, he is working on some big productions coming up with Dream Cinema's Rayster Michaels, & Film Director Walter Franks.
Please see Google Photo Album for all the Pics!
This was another amazing event invite by eZWay, where attendees & eZWay Wall of Fame members were able to continue to benefit their success and connect with the best the eZWay!
Please feel free to become a Member of team eZWay, then an affiliate utilizing the below link, and then promote your affiliate link to earn $$$money.
We appreciate your support!
Matt J. Doyle (EWOF) Affiliate Link to sign up for your FREE profile, then register and/or become an affiliate!
Thank you and may God Bless you!
Best regards,
Matt
Matt J. Doyle
eZWay Network
310-349-9356
matt@ezwaynetwork.com
https://www.mattjdoyle.com