CREATE YOUR FREE ACCOUNT
Enjoy a couple sneak peeks of the TGR Movie Trailer and behind the scenes! Today on EZ TALK LIVE
Are you ready for another amazing episode of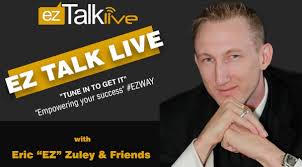 EPISODE TOPIC – Growing your audience using media the right way
This weeks episode features…..
Joss Gomez & Solecito Vazquez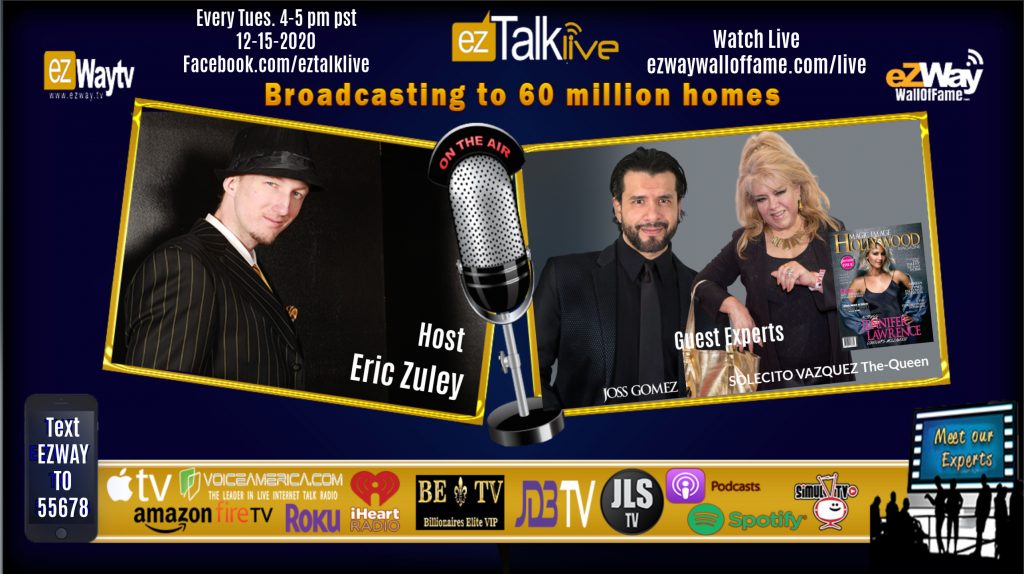 Joss Gomez 
Joss Gomez is an international award winner Producer and Director, also Entrepreneur/Publisher/Actor/Musician and lawyer born in Mexico City graduated from law school in Mexico City (UNAM) and also studied Communications in Texas (UTEP)
He started acting since he was 5 years old. He had to fill in for his younger brother and Magician Augusto Gomez after he got sick for a few weeks. Joss comes from a family full of artist and politicians.
He started getting roles in his native country of Mexico in classic Novelas such as Teresa with Salma Hayek, Quinceanera, Carrusel and more. After finishing his Law studies in Mexico City he moved to Las Vegas where he started going to auditions, and working in movies such as Oceans 11, Rush Hour 2, Scorpion King, etc, then he decided to move to Hollywood CA to pursue his acting career, he started working on TV Shows and Movies including The OC, Summerland, Shark, Providence, The X files, XXX State of the Union, etc.
He has worked along side the biggest movie stars in the world such as: Brad Pitt, Julia Roberts, Jackie Chan, George Clooney, William Shatner, The Rock, James Woods, etc.
Mr. Magic as he is also known, put his acting career on hold after launching The MAGIC IMAGE HOLLYWOOD MAGAZINE in 2010, and has become one of the bigger Entertainment Magazines in Hollywood.
He also started producing red carpet Hollywood events in Los Angeles such as The Queen of Hollywood, Magic Image Hollywood Awards, beauty pageants, charity fundraiser events, movie premieres, etc.
On 2016 he Produced, Directed, Starred and Wrote the Sci-fi movie Among Us, now on Amazon Prime.
He suffered a heart attack on 2016 and started working with several heart foundations trying to touch and educate people about the number one killer in the world.
He Produced and Directed the comedy Television series called Las Garnachas, the movie Chikitito Meow having the privilege of working with the international movie star Mr. Chikitito,  also the action movie Team of Two and currently working on the SuperHero action movie THE LEATHER MAN!
Solecito Vazquez
THE QUEEN SOLECITO VAZQUEZ ; sentimental, sensitive, loving and sweet, with a masters degree under her arm decides to become a Singer in the 90's; With great acceptance, the contracts kept coming, immediately establishing her, as one of the best Singers in Mexico. She is also known as THE MEXICAN MUSIC QUEEN, she has been recognized FOR HER KINDNESS AND GREAT HEART, since she has dedicated great part of her life TO HELP THE NEEDY. She is the founder and supporter of the SOLECITO VAZQUEZ foundation in Mexico City to help those people who most need it, full her of happiness!
Besides her privileged voice she has the gift to perform with passion and feeling. She sings from her heart reaching and touching the heart and soul of everybody who listen, taking them back to those pleasant memories and for that moment she becomes their favorite star. She is THE QUEEN SOLECITO VAZQUEZ, moreover she is a COMPOSER , A WRITER AND AN ACTRESS. She is writing a book that is coming soon. Listen to her; you will experience this soul reaching feeling too. Selected as THE MEXICAN MUSIC QUEEN AND THE NEW MILLENNIUM REPRESENTATIVE IN MIAMI IN 2000. Worked alongside SALMA HAYEK on television, where she appeared also as a Singer. She has alternated with international performers such as: RIKY MARTIN, PLACIDO DOMINGO, THALIA, SHAKIRA, JUANES, VICENTE FERNANDEZ, JUAN GABRIEL , ALEJANDRO FERNANDEZ, HOWAR McCRARY, EDNITA NAZARIO, NAJAM SHERAZ, PRINCE ALI, JOSE JOSE, PEDRO FERNANDEZ, MIJARES, YURI, LUCERITO, COQUI MUNIZ, PAQUITA LA DEL BARRIO, ROSENDA BERNAL Etc.
She has been chosen as THE ONLY MEXICAN FEMALE SINGER TO REPRESENT MEXICO AND LATINAMERICA  ON THE WORLD PEACE EVENTS, together with: MADONNA, BARBARA STREISEND, ANDREA BOCELLI, ELTON JOHN, STEVIE WONDER, STING, SARAH McLANCHLAN, ETC. She has been in several movies with: Los Hermanos  Almada, Rene Cardona, Marga  Lopez, Lucha Villa among others. Her experience is based on massive events, such as: Palenques, Theaters, Fairs, Rodeos, Arenas, Political events, Special events for several Mexican presidents, Governments, agencies, private companies. Etc. One of her next projects is to work in HONG KONG to represent HER COUNTRY MEXICO, as an invitation from HOWARD McCRARY multi-talented, has built a solid reputation as an Award-Winning Singer, Songwriter, Producer and Musician. THE BEST OF THE BEST!
ADDITION OF MEXICO LOS ANGELES, MIAMI AND LAS VEGAS.
She is the Vice president of the Magic Image Hollywood Magazine and Magic Image Productions in Hollywood, also an actress and executive producer of the movie Among Us and the Television Series Las Garnachas.
Solecito also produces events in Hollywood such as beauty pageants, award shows, movies premieres, etc.
This is just a brief description of THE QUEEN SOLECITO VAZQUEZ career.
CD'S AND VIDEOS ARE COMING SOON!
Give love, nobody is so poor that cannot give it, neither so rich for do not need it. ONLY LOVE CAN CHANGE THE WORLD!
LISTEN TO MY RADIO PROGRAM "SOLECITO SIEMPRE CONTIGO"
EXPERT GUEST
NIKKI RICH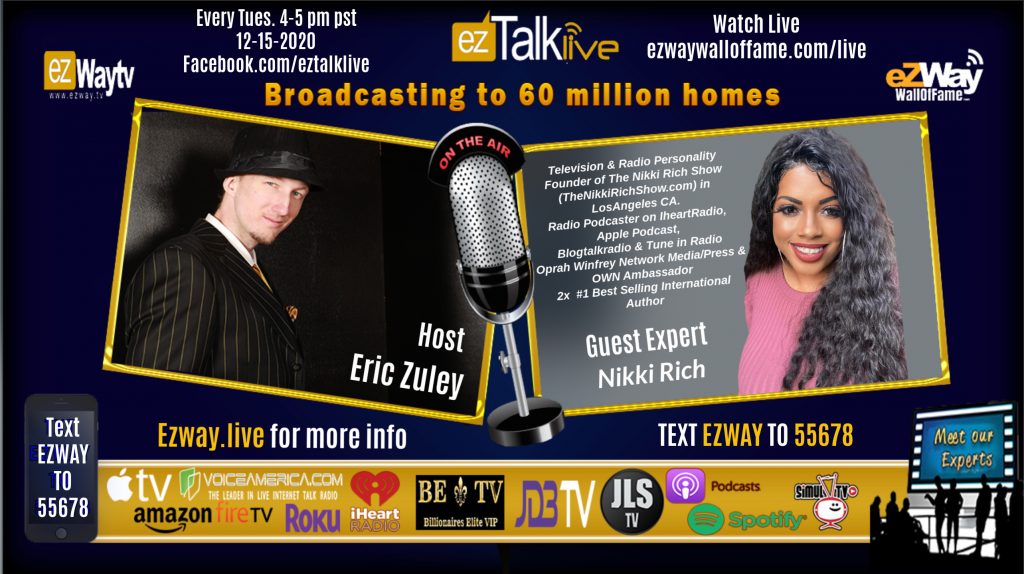 Accomplishments 
Television & Radio Personality /Founder of The Nikki Rich Show (TheNikkiRichShow.com) in LosAngeles CA. Radio Podcaster on IheartRadio, Apple Podcast , Blogtalkradio & Tune in Radio Oprah Winfrey Network Media/Press & OWN Ambassador 2x  #1 Best Selling International Author on Amazon 3x Best Selling Author Amazon 6x Featured Cover Magazine Forbes Culture Member Model #NYFW HITECHMODA Show TMZ LIVE CORRESPONDENT Toyota Rav 4 Series Host 4 Billboards Producer Global Keynote & University Speaker Hosted Virtual Book Tour with 50 + Authors during A pandemic
CEO of BrainTap Technologies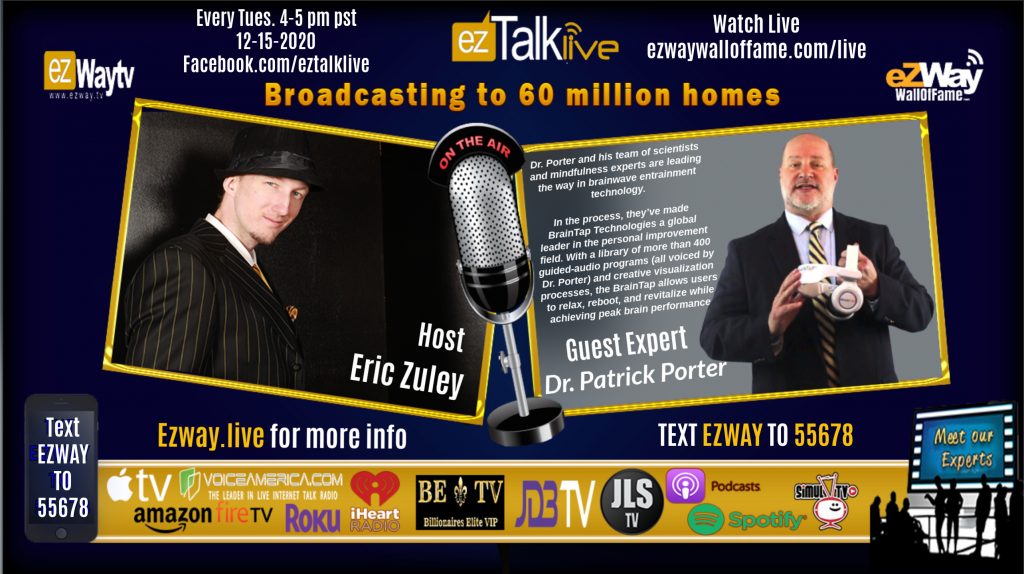 Dr. Patrick Porter 
BrainTap™ creator Patrick K. Porter, Ph.D., began his journey into the science of calming the brain at age 12 when his father taught a relaxation method to him and his eight siblings. Porter soon recorded his first visualization on a cassette recorder and used it to transform himself from a self-professed "struggling student and storied troublemaker" into a three-sport athletic captain as well as an honor roll student.
Today, Dr. Porter and his team of scientists and mindfulness experts are leading the way in brainwave entrainment technology. In the process, they've made BrainTap Technologies a global leader in the personal improvement field. With a library of more than 400 guided-audio programs (all voiced by Dr. Porter) and creative visualization processes, the BrainTap allows users to relax, reboot, and revitalize while achieving peak brain performance.
REGISTER TO SPIN!
SPIN THE NEW eZWay Wheel of OPPORTUNITY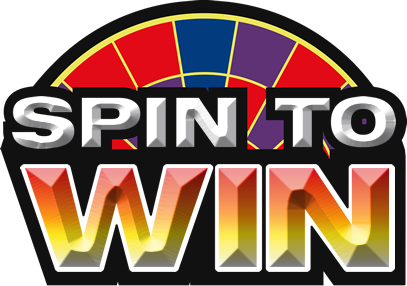 SHARE THIS BLOG POST and GET YOUR NAME PUT INTO A HAT TO GET SELECTED TO SPIN THE WHEEL!
2 people will get selected to spin the wheel. Contestants can win
$100.00 cash prize
Interview on EZ TALK LIVE
Chance to co-host on the show
Blog Post
Magazine Ad
TV Commercial
Podcast Commercial
Stage speaking opportunity
EWOF Upgraded account for 1 month
Author Support
Social Media push for 1 day
30 min 1 on 1 consultation with Eric Zuley or James Dentley or many of our other EWOF expert members
Or you can land on the Super winner which is your choice of 1 of of these services