CREATE YOUR FREE ACCOUNT
Enjoy a couple sneak peeks of the TGR Movie Trailer and behind the scenes! Today on EZ TALK LIVE
Are you ready for another amazing episode of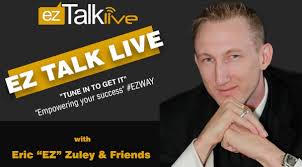 EPISODE TOPIC – The Business Behind The Business
This weeks episode features…..
Sir John Shin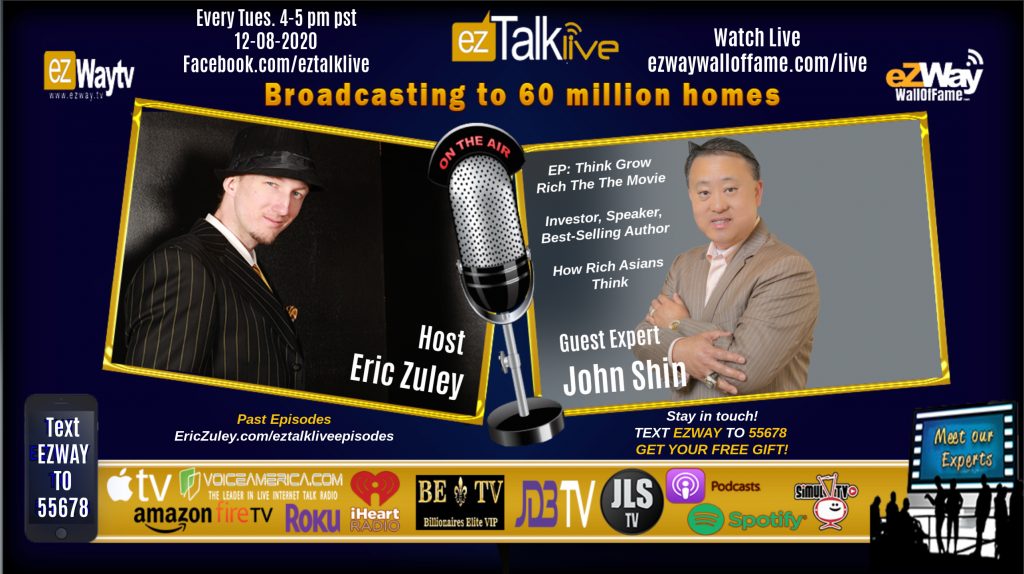 Sir John Shin is a serial entrepreneur, philanthropist, movie producer, author, motivational speaker and critically acclaimed business coach.
He has started over 26 different companies from scratch which have all become multi- million-dollar enterprises and is the Co-Founder of the ALL FOR ONE Foundation and sits on over 6 different boards of charities.
Sir John Shin also is the Executive Producer of the featured film, "Think and Grow Rich: The Legacy," which is sweeping the world in multiple countries and the modern-day author of the bestselling book, Think and Grow Rich, written by Napoleon Hill in 1937.
His book, A Think and Grow Rich Publication, was released on January 6th, 2020 called "HOW RICH ASIANS THINK AND GROW RICH," published by the Napoleon Hill Foundation.
Tina D. Lewis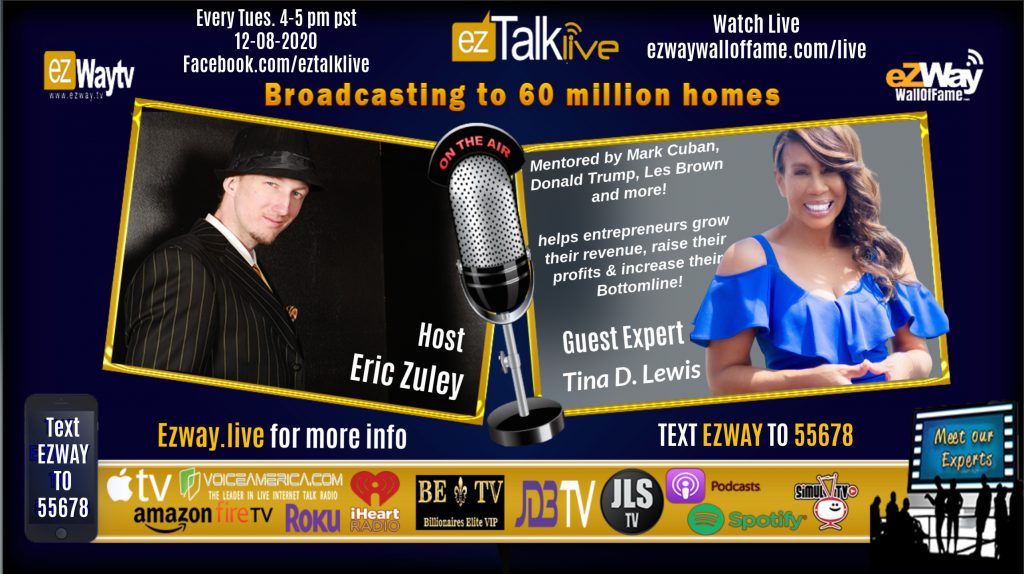 I help women owned businesses Start, Scale & SUCCEED in creating a multiple six figure business. I have a few secret systems that allow you to attract your perfect client & automate or delegate cumbersome tasks freeing you up to engage in the things you enjoy most!
=> SPECIALTIES: Sales, Client/Customer Acquisition, Revenue Generation, Early Stage Entrepreneurship, Social Media Marketing. .
=> UNIQUE EXPERIENCE: I became a teenage mom at the age of 19. My daughter became my WHY – why I had to graduate, why I had to be extremely successful, why I could never be poor, why I have to give back and more importantly WHY I could NEVER quit!
I attended the University Keck School of Medicine on a Full Academic Scholarship. My career as a medical professional was short lived as I discovered that even though I had a skillset and loved helping people, I was chronically unemployable. Later, I joined a Network Marketing company and with no experience became the #1 Recruiter for 3 straight years and the #4 Income Earner.
I have been either mentored or shared the stage with Mark Cuban, Donald Trump, Les Brown, Brian Tracy, John C. Maxwell just to name a few.
Today, I'm proud to have multiple streams of income and own a MULTIPLE 6-figure coaching platform that impacts the lives of Women Globally while allowing me the time freedom to enjoy friends & family and to travel to places I only saw in magazines! The world is my oyster!
REGISTER TO SPIN!
SPIN THE NEW eZWay Wheel of OPPORTUNITY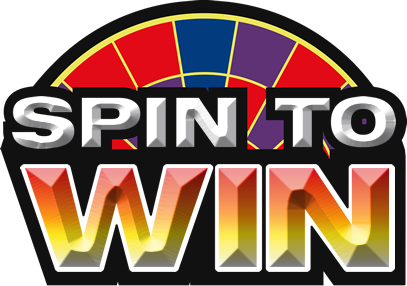 SHARE THIS BLOG POST and GET YOUR NAME PUT INTO A HAT TO GET SELECTED TO SPIN THE WHEEL!
2 people will get selected to spin the wheel. Contestants can win
$100.00 cash prize
Interview on EZ TALK LIVE
Chance to co-host on the show
Blog Post
Magazine Ad
TV Commercial
Podcast Commercial
Stage speaking opportunity
EWOF Upgraded account for 1 month
Author Support
Social Media push for 1 day
30 min 1 on 1 consultation with Eric Zuley or James Dentley or many of our other EWOF expert members
Or you can land on the Super winner which is your choice of 1 of of these services
REGISTER FREE
SPECIAL EVENT HAPPENING TOMORROW! ALL OUR EZWAY SUPPORTERS GET TO GO FREE! PLEASE LET US KNOW IF YOU REGISTER AND HOW YOUR EXPERIENCE WAS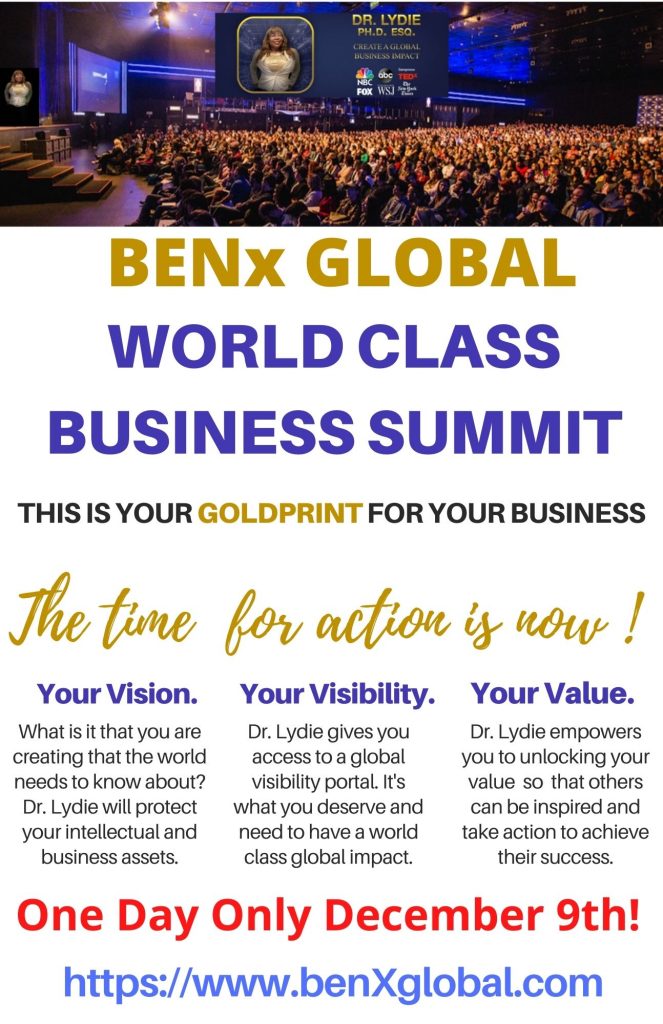 Dr. Lydie Will Host the World Class and Impactful Inaugural "BENx Global – Your
Vision. Your Visibility. Your Value for Entrepreneurs Summit" Virtually Empowering
Entrepreneurs to Create a World Class Global Financial Impact
It's Happening One Day Only on December 9, 2020
Register Now @ https://benXglobal.com
The Business Empowerment Network, AMPLIFIED!, The Keep Smiling Movement, App Bros
Designs, The Motivational Mission Tours, BOWA World, Encore Elite Events, In Pursuit
Media, and Power Up! Legal Academy will come together to inspire, inform, empower and
bring visibility to your business and the global impact you want to have on the world.
"I am honored to participate in this inaugural event. BENx Global Empowering Your Vision.
Your Visibility. Your Value. Benx Global will change the financial trajectory of your business.
We expect this year's event to be the first of many. As the world is shifting from revenue focus
to people focused, this is the time to AMPLIFY our vision, visibility and value," said Ken
Rochon, owner of AMPLIFIED and Founder of The Keep Smiling Movement and The
Umbrella Syndicate.
This One Day Only Summit will give attendees the opportunities to be inspired and empowered
with:
 legal insight,
 wealth mindset,
 legal know-how
 power shift pathways,
 income streams and
 building a living legacy.
Attendees will leave the BENx Global event equipped with tools to:
 Activate,
 Build and
 Confidently
grow a world class business that will have an impact locally and globally!
"I feel honored to and privileged to join forces with AMPLIFIED!, The Keep Smiling
Movement, Motivational Mission Tours, BOWA World, The App Bros Design, The Business
Empowerment Network, and In Pursuit Media, Encore Elite Events to produce the BENx Global
– Your Vision. Your Visibility. Your Value for Entrepreneurs Summit. This event is timely
and necessary to provide motivation and inspiration during these historic difficult times.
Attendees will leave the event empowered with insight, tools, and a visibility structure that will
be a game changer for their business in 2021," said Dr. Lydie, Chairman of In Pursuit Media and
Founder of Power Up! Legal Academy.
Register NOW @ https://benXglobal.com
Five powerful, impactful and world class entrepreneur-speakers will come together to provide
you with the uncommon know-how to make 2021 your best business year ever including:
 Dr, Lydie Louis – The Money & Law Doctor
 Ken Rochon – Radio Icon and The Umbrella Syndicate Creator
 Alexa Oliva – Creator of Motivational Mission Tours for Children
 Robert Evans – Creator of The Expert App Mobile Platform
 Charles Theisen – Founder of the Business Empowerment Network
Attendees will:
 enjoy musically themed implementation zones and random inspiration singing moments
by Dr. Lydie.
 have opportunity to access legal laser coaching sessions with Dr. Lydie
 a front row seat to the witness the launch of a world class visibility structure for 2021
 receive one FREE Early Bird Special Ticket to Dr. James Dentley and Eric Zuley's
4 th Annual "Limitless for Women Summit" Virtually Connecting Thousands of Globally
Leading Women on December 11-13, 2020
REGISTER NOW @ https://www.benXglobal.com