See who's walking our virtual gold carpet
"Eric Zuley's Virtual Birthday Bash"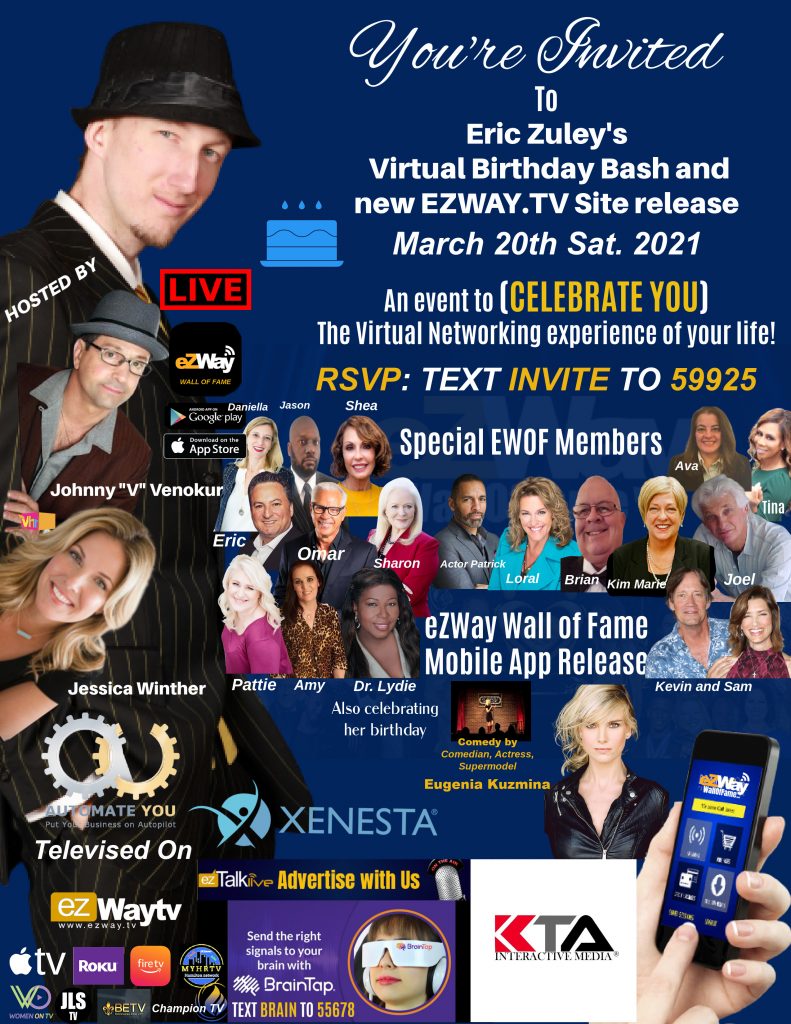 "Eric Zuley's Virtual Gold Carpet Birthday Bash Celebrity Celebration" Saturday, March 20th, 2021
The eZWay Network is closing out the first quarter of 2021 with a virtual Bang! And everyone is invited to Eric Zuley's "Virtual Birthday BASH," celebrating EZ's special day by launching into the second quarter with the new EzWay TV website release!
Eric Zuley wants to celebrate everybody's wins and successes!!
At EzWay, the creation of united perspectives has been a staple of their success. With a keen eye on what new technologies are coming next, eZWay has maintained its position at the forefront of an evolving digital terrene. Eric Zuley's innovative business strategies have propelled a multitude of CEOs to higher heights! They call him the "Digital Savant!"
Eric Zuley's implementation of qualified technical programs has impressed many companies' hierarchy towards targeted breakthrough successes in the global digital marketplace. They all realize that celebrating EZ is celebrating themselves! So, let's do this!!!
"Eric Zuley's Virtual Birthday Bash" is on Saturday, March 20th, from 10 am – 2 pm PST.
It will mark the virtual networking experience of a lifetime! So, RSVP: Text Invite to 59925 or visit http://ezwayrsvp.com/ and join the first big party of the new year.
Hosted by Johnny "V." Venokur from VH1's Scott Baio's 45 and Single and Jessica Winther from Marvel's Antman and Iron Man 3, this event will launch the eZWay Network & TV into the second quarter of another historic year.
After the eZWay Virtual Gold Carpet, There will be a series of comedy and music performances by Bad Moms actress Eugenia Kuzmina and her comedy team, Maya McClean, who was on tour with Prince for ten years, will be opening the stage, followed by # 1 Billboard artist Viva Doll, Shevyn Roberts, Kenya Lu, clean cannabis comedy by Medicinal Mike and finishing the occasion will be a dedication performance to the late Frank Shankwitz who was the creator of Make A Wish Foundation by Fiz Anthony finished up by our grand finally celebrity performance by Sheldon Reynolds, former lead singer of Earth Wind and Fire.
Celebrity Guests that will be participating at the event include:
Kevin Sorbo, Actor, Producer, Director (Hercules)
Kate Linder, Actress (The Young and the Restless)
Johnny "V" Venokur, Actor (VH1, NETFLIX, Producer, Host)
Jessica Winther, Actress (Marvels Iron Man 3, Comedian, Host)
Kim Marie Pettid, CEO of Letip International
Viva Doll, # 1 Billboard Artist
Shevyn Roberts, Recording Artist, Actress, Dancer
Eugenia Kazemina, Supermodel, Comedian, Actress (Bad Moms)
Dev Ross, Emmy Award-winning Writer (Little Mermaid, Land Before Time II)
Bill Walsh, Speaker (Founder of Powerteam International)
Omar Periu, Speaker, Best Selling Author (One of the founders of La Fitness)
Alec Stern, Speaker, "America's Startup Success Expert" (Co-founder of Constant Contact)
Jeffrey Levine, Executive Television Producer (JLSTV), Speaker, and Tax Attorney
Tony Boldi, Actor, Producer, Host
Tony Tarantino, Film Maker (Father to Quinton Tarantino, Film Maker)
Loral Langemeier, Speaker (Millionaire Maker)
Reatha Grey, Host of Radio Boomers Live (Betty Whites Off Their Rockers)
James Zuley, Host of Radio Boomers Live (Father to Eric Zuley)
Maya McClean, Singer, Song Writer, Actress (Dancer on Prince Tour)
Kenya Lu, Recording Artist
Medicinal Mike, Standup Comedian (Host of NugLife Radio)
Dr. Dante Sears, Healer, Entrepreneur (Founder with WEALTHXO)
Dr. Lydie, Legal Attorney, and Coach ("Law Expert of Wallstreet" and Host of the Money, Law and You Show)
Eric Stoller, Founder of Les Brown Institute (Executive Producer, Champion TV)
Brian Willis, Founder Billionaires Elite VIP (Executive Producer BETV)
Ro Brooks, Actor (Own's The Haves and the Have Nots)
Patrick Faucette, Actor (The Haves and the Have Nots)
Shane Sparks, Celebrity Dance Choreographer
Andy McPhee, Actor (Sons of Anarchy and WentWorth)
Esau Mcknight, Actor, Stuntman (Blade, Green Hornet, Iron Man 2)
Shea Vaughn, Speaker (Mother to actor Vince Vaughn)
Sean Riggs, (Lazarus, Tubi/Fox)
Trae Ireland, (Netflix, Amazon)
Keith Mitchell, Former NFL Star turned Yogi
Jeff Spenard, CEO of Voice America (EZ TALK LIVE podcast)
Sean Kanan, (Karate Kid III)
Jason Spann, (Xspannsion Show)
Gerald L. Kane, (Business And Benefits Show host)
Dannella Burnett, (Speakers Need To Speak Show)
Eric Stoller, Executive Producer Champion TV, (Founder Les Brown Institute)
Tiffany Bell, Executive Producer (Unstoppable Courage TV Channel)
Daniella Platt, Terance Coffee (Looking Good Show)
Matt J Doyle, eZWay Network IMDB Director, Executive Producer (Host of Tap)
Pattie Sadler, Founder (New Life Clarity Publishing)
Dr. Stephanie, (Dr. MONEY Live Show)
Dr. Jeffrey Benton, Executive Producer (Houdini of Healing)
Leila Colgan, Executive Producer (Level up with Leila Show)
Tina D. Lewis, Speaker, Coach, (Bottom Line Strategist)
Billy Moore, Founder ABC Youth Foundation, (Son of Legendary Boxer Archie Moore)
Steve Sughrim "The Dominanaire" Speaker, Entrepreneur
Team eZWay consist of Tom Chesser (Authority PR), Michelle Finnegan Nixon (V Carpet, Producer), Piper Nicolein (AP), Angelique Marie (Event Director), Ian C. Glover (Ap), Saskia Van Buren (AP), Gouchti Abdeljabar (Web) Dr. Dante Sears (C00) Tina Ramsay (eZWay Wall Of Famer Trainer)
Eric Zuley has been balancing the complexities of neoteric methodologies with the virtual necessities dominating a new era changing the world.
At EzWay, their inexhaustible quest to support positive causes which aid humanity is never-ending, and the conjoining of like-minded individuals for positive results will remain a primary focus. So, let the party begin!
This event will showcase a series of shows on the eZWay Network, reaching up to 30 and counting! As well as new TV networks and channels. Distribution through SimulTV to 60,000,000 homes
Be sure and download the eZWay Family App to join the fun! https://ericzuley.com/downloadapp/
The eZWay Family App is a marketing and promotions tool for our eZWay Family community. This app helps members get promoted through their network and audience and keep up with their live broadcasts. Features of the eZWay Family App include Tips and posts, Live Broadcast, eZWay Wall of Fame members, business affiliates promotion, Journal/Magazine, Courses, yes we can help promote and sell members courses and services, Push to notifications (Always stay up to date on what happening the eZWay) this means members phones will be pinged when there is an eZWay opportunity that arrives or and update.
TV shows, direct access to eZWay Wall of Fame, and more!
This event is brought to everybody by KTA INTERACTIVE, AUTOMATE YOU, Xenesta, WEALTHXO, GLOVERZONE DL PICTURES, BRAINTAP, DominionHeir, the EZWAY WALL OF FAME, and Rise Up Media & Marketing.
Media Contact
Company Name: Rise Up Media & Marketing
Contact Person: Tom Chesser
Email: riseupmediamarketing@gmail.com
Phone: 210-289-5996
Country: United States
Website: http://riseupmedia-marketing.vcardinfo.com/