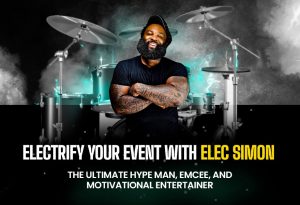 When it comes to making events unforgettable, there's one name that stands out: Elec Simon. With his boundless energy, captivating stage presence, and percussion expertise, Elec Simon has become a must-have talent for events of all sizes. 
Whether it's a conference, school gathering, theater performance, or even a massive arena show, Elec Simon knows how to engage crowds of up to 25,000 people and inspire them. 
In this blog, we'll explore the extraordinary journey and accomplishments of Elec Simon, the professional MC, speaker, and humanitarian.
The Power of Positivity
Elec Simon's performances are characterized by an infectious positivity that radiates throughout the venue. As a seasoned musician and entertainer, Elec has mastered the art of uplifting and motivating audiences through his words and actions. He is the owner of "The motivational musical".
His dynamic stage presence and his ability to connect with people on a personal level create a transformative experience for everyone present. With Elec Simon as your emcee, you can be confident that your event will be infused with a surge of motivational magic.
Elec Simon's International Success
Before becoming a sought-after emcee and motivational entertainer, Elec Simon made waves in the international performing arts scene. 
He gained global recognition through his performances with the renowned production "Stomp," captivating audiences off-Broadway and around the world. 
Elec's talent for percussion and his ability to transform everyday objects into musical instruments became his signature style. 
This unique background has influenced his approach as an emcee, infusing his performances with a distinct rhythmic flair that sets him apart from the rest.
Elec Simon and the Cleveland Cavaliers Entertainment Team 
Elec Simon's talent and charisma earned him a spot on the Cleveland Cavaliers Entertainment Team. As a member of this prestigious group, Elec took center stage during NBA games, electrifying audiences with his high-energy performances. 
His ability to energize the crowd and create an electric atmosphere made him a fan favorite. Through his time with the Cavaliers, Elec honed his skills as an emcee and further developed his knack for engaging large crowds, ensuring an unforgettable experience for every spectator.
Elec Simon and Pieces of a Dream
Currently, Elec Simon is taking his talents to the global stage as he emcees and plays percussion for the world tour of the renowned smooth jazz ensemble, Pieces of a Dream. 
Sharing the stage with these acclaimed musicians, Elec continues to captivate audiences around the world with his incredible showmanship and unmatched energy. 
Through his performances, he brings people together, transcending language and cultural barriers to create a unified experience that resonates with people from all walks of life.
Elec Simon's Impact Beyond Entertainment
Elec Simon's passion for making a difference extends far beyond his performances. He is a dedicated humanitarian who uses his platform to inspire and uplift others. 
Elec actively engages in charitable work and motivational speaking engagements, aiming to empower individuals and communities to embrace their full potential. 
Through his infectious joy and dedication to service, Elec Simon proves that entertainment can be a powerful tool for positive change.
Verdict
Elec Simon is more than just an emcee, speaker, and entertainer – he is a force of nature. With his transformative energy, percussion skills, and motivational magic, Elec has carved out a niche for himself in the industry. 
Whether he's captivating audiences on the global stage or giving back to the community through his humanitarian efforts, Elec Simon is a true inspiration. 
Book Elec Simon for your next event and watch as he electrifies the atmosphere, leaving an indelible mark on everyone in attendance. Get ready to experience the unforgettable journey of Elec Simon, the ultimate hype man and motivational entertainer.