On March 18th, 2023, the world will come together to celebrate the birthday of one of its most dynamic and influential figures – Eric Zuley. A renowned entrepreneur, social media influencer, and TV host.
Eric has touched the lives of millions with his infectious energy, unbridled optimism, and unshakable commitment to helping others achieve their dreams. As he marks another year of his journey around the sun, Eric's impact continues to grow, inspiring countless individuals to reach for the stars and make their mark on the world. 
In this article, we will take a closer look at Eric's life and legacy, as well as the many ways in which he has transformed the worlds of entertainment, business, and social media. Join us as we celebrate the life of a true visionary, and wish Eric a very happy birthday!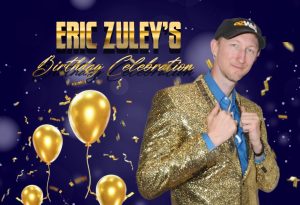 Eric Zuley's recent birthday celebration on Zoom!: A Warm, Heartfelt Extravaganza
Eric Zuley's recent birthday celebration on Zoom! Eric's family & friends, including Melina Gay, Matt J. Doyle, Marneen Fields, Master Aaron, Adriana Steinwedel, Sue H, Dr. Ntisiki Ncoco, Amy Graves, Eric Hylick, Bai Ling, Tanjil Ahmed Fahim, Karina Kantas, Cat Oshman, Peter, Tony Kaufman, Eugene Mendel Corn, Wendy Weber, Batista, Dante.
Also,  Dr. Fitness, Debora J. Hollick, Master Yeung, RosalinKhan, Linda Cain, Dr. Lamerr, Rosalyn, Phyllis Pieri, Big Bruce, Kahlil Sullivan, James Zuley, Trae, Lanelle Underwood, Flash Bugetti, Van Dichoso, Karla Silva, Grant Doelp, Raetha, Steve Brossman, Elizabeth Harper, Adams, Kimberly Trapani, Medge Jaspan, Peache, John Michel Ferrari, and the eZWay team, all gathered virtually to wish him a happy birthday.
The birthday celebration was a great opportunity for everyone to catch up and reminisce about old times. Eric's friends shared heartfelt messages and memories, and the eZWay team surprised him with a special birthday video.
It was a joyous occasion, filled with laughter and love, and a reminder that even in challenging times, it's important to stay connected with the people who matter most. Eric Zuley's birthday celebration on Zoom was proof that with a little creativity, you can still have a meaningful and memorable birthday celebration, even when you can't be together in person.
So, here's to Eric Zuley's birthday, and to many more years of laughter, friendship, and love with his closest friends and the eZWay team!
Eric Zuley expresses gratitude and appreciation for his eZWay family with a heartfelt shoutout:
During the event, Eric took the opportunity to express his deep appreciation and gratitude for the eZWay family and their unwavering support.
Eric spoke candidly about the challenges he faced throughout his life and career, and how the support of the eZWay family has helped him overcome these obstacles. He shared stories of their kindness, generosity, and unwavering support, which have made a profound impact on his life.
As the founder of the eZWay family, Eric recognized the importance of building strong relationships and creating a supportive community. He expressed his gratitude for the eZWay team's hard work and dedication, which have helped to make the organization a success.
Eric's birthday celebration was a testament to the power of community and the importance of surrounding oneself with people who share similar values and goals. The eZWay family's love and support have helped Eric achieve his dreams, and he is deeply grateful for their ongoing support.
Overall, Eric Zuley's birthday celebration was a special occasion that brought together his closest friends and the eZWay family to celebrate his life and accomplishments. 
It was an opportunity for Eric to express his gratitude for the people who have helped him along the way and to reflect on the importance of building strong relationships and supportive communities.