Today we talk about your favorite show, Radio Boomers Live. Today's special guests are none other than the most famous and honorable Michael Baptiste and Freda Payne. So let's look attentively to learn about them and what they exposed at this show for better vision. 
 This show is hosted by James Zuley, Eric Zuley, and Carmelita Pittman. They organized this show as an important model of success in terms of both speaking and corporate.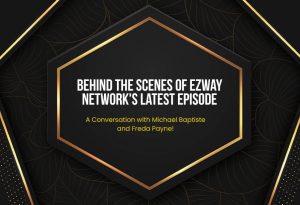 Discover the Multi-Talented Michael Baptiste
eZWay Network's Radio Boomer Show recently featured a very special guest: the talented and multi-faceted Michael Baptiste. With a career spanning over three decades, Baptiste has established himself as an accomplished actor, coach, and speaker with a wealth of knowledge and experience to share. In his interview with the Radio Boomer team, Baptiste opened up about his life, career, and philosophy, offering listeners a glimpse into the mind of a true artist and entrepreneur.
During the interview, Baptiste shared some of his insights into the entertainment industry as well as his passion for coaching and mentoring. He also discussed his work as a speaker and motivator, sharing his tips and strategies for achieving success and overcoming obstacles. With his infectious energy and positive attitude, Baptiste left a lasting impression on the Radio Boomer team and their audience, inspiring them to pursue their dreams and embrace their true potential.
Overall, Michael Baptiste's appearance on the eZWay Network's Radio Boomer Show was a real plus, and we hope to see more of him in the future.
Freda Payne Takes the Stage with an Electrifying Performance
Freda Payne is one of our podcast guests on that show. And she is an inspiration and a wonderful lady. Here we talked about her details.
Detroit-born legend Freda Payne made a captivating appearance on the Jimmy Kimmel Show, backed by none other than Jeff Goldblum's band. Her powerful performance included a selection from her latest album, "The Mildred," showcasing her timeless talent and undeniable stage presence. 
As a musical icon with a diverse body of work, Payne's hits have spanned the years, with classics like "Band of Gold" propelling her onto the Ed Sullivan Show. Fans can catch a repeat of her mesmerizing performance from April 4, 2023, proving that Freda Payne's star power still shines bright.
Conclusion 
 Radio Boomers Live is not just a typical talk show; it's a platform where success stories and corporate insights are shared by some of the most influential personalities of our time. 
With James Zuley, Eric Zuley, and Carmelita Pittman as the hosts, the show has become an invaluable resource for those looking to gain knowledge and inspiration to achieve their goals.
 The presence of guests like Michael Baptiste and Freda Payne only adds to the show's prestige and further reinforces the notion that Radio Boomers Live is a must-watch for anyone who wants to learn from the best. It's not just a show; it's a testament to the power of hard work, perseverance, and the human spirit.