Welcome to the blog of Marla Press, who is an eZWay Platinum member and one of the first people to teach speakers how to tell interesting stories.
Join us on an exciting journey to find out how to wow your audience and build trust that will last forever. We'll talk about tried-and-true methods that will help you give your audience an experience they'll never forget. Get ready to have fun and find out how to be the best speaker you can be.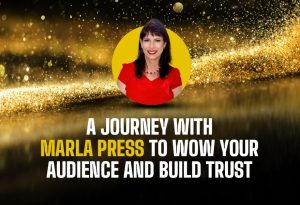 Making connections that are real
In today's fast-paced world, it's getting harder and harder to make real connections. But as speakers, we have the power to close that gap and connect with our audiences in meaningful ways.
In this section, Marla Press will help you learn how to make real connections. You'll learn how important it is to be vulnerable, tell stories, show empathy, and use other practical methods to connect with your audience right away.
How to Make People Say "Wow"
To keep an audience's attention, you need to do more than just give a well-written speech; you need to be able to wow them from beginning to end. 
Marla Press will teach you how to master the art of wow and give you tips that will help you make your presentations stand out.
You'll learn how to leave a lasting impression on your audience by making an interesting opening, using visual aids, and telling a good story.
Making trust that will last
Trust is the key to a good relationship between a speaker and their audience. Without it, no one will hear what you have to say. In this part, Marla Press will show you how to build trust that lasts.
You'll learn how to build your audience's trust, stay true to yourself, and create a supportive environment for them. 
By the end of this masterclass, you'll have the tools to build trust with your listeners that won't waver. This will help you connect with them for a long time.
Let's do it and sign up for the free master class.
Are you ready to start this journey that will change you?
Join Marla Press and the eZWay community. Don't miss this chance to learn from a well-known speaker and gain the skills you need to impress your audience and build trust. From there, you can set up a chat with me for a "Hot or Not Speaker Assessment." 
Additionally, you have the option to join one of your free master classes or your Elite Speakers on Fire programs. For the Hot or Not Assessment, https://bit.ly/SchedulewithMarla . For free class https://marlapress.com/free-speaker-masterclass.
Verdict
Marla Press, who is a Platinum Member of eZWay, wants you to join her upcoming free masterclass to learn how to wow your audience and build trust. 
Embrace the power of real connections, learn how to wow people, and find out how to build trust that lasts.
Let's make every day a chance to inspire each other and make memories that will last a lifetime.